About Us
We are a group of extremely dedicated individuals with a deep-seated love of football whose common goal is to showcase and promote football players from youth to varsity in as many media outlets as possible.
Our story is short and sweet and very familiar to a lot of athletes and parents alike. Bleechr was created out of the frustration that way too many great athletes were being overlooked in favor of the "5 star" phenomenons. There are literally hundreds of thousands of gridiron warriors grinding around the country, yet all the attention went to the handful of stars.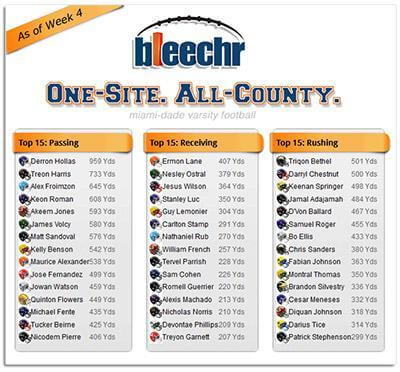 In 2010 we created Bleechr to showcase players and show actual game stats that would prove that there are truckloads of talent to be had below the "Top 5". In many cases, no-name guys were outperforming the "stars" on a weekly basis. In 2014 we launched our social media campaign and in a short time we realized that athletes at every level, especially those not at skill positions and therefore would not collect stats, had an incredible thirst to be recognized for their hard work. Think we're kidding? Do a Google image search for "bleechr". We've been busy.
Taking that theme to heart, and discovering that the competition to be seen goes well beyond the local varsity level, in 2015 we expanded our reach to include Youth and Middle School athletes from across the country.
"If you play football and want to be seen, you need to be on Bleechr."
We are not a recruiting service nor do we guarantee that college coaches will be notified of your existence. There are far too many companies out there making lofty claims and falling short of those promises while collecting large fees. There is no substitute for self-promotion and a complete Bleechr profile is the #1 way to accomplish that. We give every athlete in our system the opportunity to be recognized.
We host our Bleechr Exposure Camps & Combines and well as partner with other organizations throughout the country to compliment their own events and give participating athlete access to their certified data and display it prominently on their profile. Long gone are the days of attending events and leaving empty handed.
FREE profiles are available for every athlete that registers on Bleechr.com. All key measurables found in professional bios will be displayed along with the athlete's photo, custom layout, highlight videos and a photo gallery.
We also offer additional features in our affordably priced Premium Memberships (Rising Star for Youth to Middle School athletes, College Recruit for High School players and Prospect for post-grad athletes looking to go Pro) that allow for certified combine data collection, 15 videos, news links, coach references, athlete summary, college and coach directory, college offers, recruiting tips information, pro referrals and evaluations and so much more.
We strongly believe professional profiles shouldn't be reserved solely for families with deep pockets. Every athlete deserves the opportunity to be seen.
We are extremely proud of our gridiron warriors and genuinely enjoy showcasing their talents and accomplishments to other Football fans, recruiters, scouts and coaches across country and the world!
Nobody Does Football Like Bleechr.....Nobody.
---